Mason Lock "Parson" Weems
After my spirited account of the fortunes and misfortunes of Dr. William

Brydon

, Commander of Bath, I now feel that I must return to the tale of Parson

Weems

, our own noteworthy and notorious purveyor of the printed word. Itinerant bookseller

par excellence,

Weemsy

is most famous for his "biography" of George Washington, the toothless and sterile Masonic surveyor perhaps also known as the first king of our country. The real question is, how did

Weems

did up so much dirt on the seemingly unimpeachable character of Farmer Washington? I traveled to Washington's underground lair near Alexandria, Virginia to find out.
Washington may have struggled with lying, but Weems had no such compunction!
While I have previously suggested that perhaps

Weems

became "

BFF's

" or "best friends forever" with Washington, as in the case of Samuel Johnson-

botherer

and sometime

Charlie's Angels

star James Boswell, to write about his life, after much research in secret archives deep beneath Mt. Vernon, I do not now believe this to be the case. Instead, I contend that Washington repeatedly visited

Weems

in his dreams, relaying vivid tales of his misspent youth and scandal-laden adulthood. (This is not the story that

Weems

"scholars" will tell you, but they're almost all dead anyway, and what do they know? I mean, Harold

Kellock

, you're just an English professor -- go write about your "feelings"!)
After his book slowly became a huge success,

Weems

sent Washington a personally inscribed copy of his biography. As if Washington needed to read about his own life -- as if he didn't

remember

throwing that quarter across the Potomac on a dare as a young man! (Some say he threw a dollar, seemingly forgetting that, even if you wad it up, a dollar does not travel very fare, even for Washington, a man endowed with the strength of the red sun of Krypton. And when have you ever tried to throw a picture of yourself into a river?)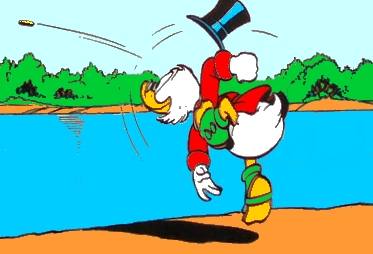 But enough about our drug-addled first president!

Weems

, it must be said, had great nerve, or "balls," as I believe it is put colloquially. Not only did he write a truth-telling screed against the man who was First in Peace--

Weems

composed works of similar quality about other "founding fathers/brothers/uncles/cousins," including his Life of General Francis Marion (1805), Life of Benjamin Franklin, with Essays (1817), and Life of William Penn (1819).

Unlike

Speed 2: Cruise Control

or Garfield: A Tail of Two Kitties (or, Garfield: The Prince and the Paw-per to my British readers), these were not high-quality continuations or permutations of his biography of Washington, but were NEW STORIES about other great men. Benjamin Franklin, for example, destroyed his brother's printing press with his father's axe in a fit of juvenile Luddite fervor. Francis Marion,

Weems

reports, dressed in a fox costume as a young lad and got lost chasing several local Indians through a nearby swamp, only to be found and chastised by his father.
Weems

was also an active violinist, playing what the locals of

Dumfries

, Virginia, called "devil's music," accusing the Parson of fiddling the townspeople into a hypnotic trance that made them have an overwhelming desire to buy low-quality biographies.
Mason

Weems

died on May 23, 1825 in South Carolina of unknown causes and is buried somewhere on the grounds of Bel Air Plantation in

Prince William County

, Virginia. The precise location of his grave and the accompanying cemetery were lost, like the nation's enthusiasm for

Weems's

biographies, by the twentieth century. Let us remember him as he was, a half-crazed, practicing

Mesmerist

, and homeless book peddler that wrote the bestselling book after the Bible for the period from 1800 to 1825. Amen to that!
I could write a third part to this story; such is the richness of the life of Parson "Mason Locke"

Weems

, but I am gradually losing interest in him and must move to greener pastures. Therefore, I am slowly closing the doors of the cabinet for now. Make sure your hand does not get caught between the doors--it really smarts! Until next time, let me leave you with the words of the great Philosopher: if you can't be with the one you love, honey, love the one you're with.
Your ordinary average 18th-century itinerant book peddler.
Postscript: For further reading on the amazingly interesting and hopefully exploitable for profit life of Mason Locke "Parson"

Weems

, turn to my upcoming self-published biographical monograph, "

Weems

' Dreams" and the Making of the Early American Republic: The Cross-Country Journey of a Father and his Son and an Inquiry into Values, which will come out after I figure out how to put together my mail-order printing press.